Chef Guy Mitchell Productions got its start as a result of the popularity surrounding  Guy Mitchell, a local Philadelphia personality Chef. Chef Guy is known for his zany antics and has been a guest chef for the White House, chef for the Philadelphia Eagles, host of the Atlantic City and Philadelphia Food and Wine Festivals.

With so many businesses asking Chef Guy Mitchell to try their products, visit their restaurants and MC their events,  a business was born.

Today, Chef Guy Mitchell Productions has grown into a full service events company. 

Most recently, Chef Guy Mitchell has reunited his peers made up of former White House Chefs, to create a one-of-a-kind cooking show.

The Chefs share their stories, display their White House memorabilia and prepare recipes from the kitchen of the White House.

Guests can ask questions, view the mementos and be entertained by the cooking talents of the former White House Chef Team. 

Contact us to learn more. 

To get full details, please click the appropriate tabs.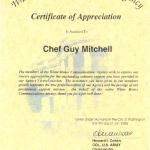 Click the above certificates to view full size